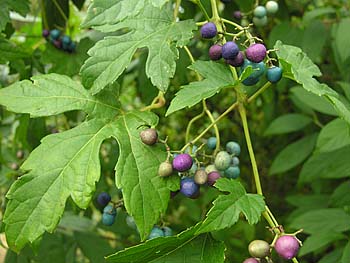 Scientific name: Ampelopsis brevipedunculata
Appearance:
Porcelain-berry is a deciduous, woody, perennial vine. It twines with the help of non-adhesive tendrils that occur opposite the leaves and closely resembles native grapes in the genus Vitis. The stem pith of porcelain-berry is white (grape is brown, and the bark does not peel (grape bark peels or shreds). The Ieaves are alternate, broadly ovate with a heart-shaped base, palmately 3-5 lobed or more deeply dissected, and have coarsely toothed margins. The inconspicuous, greenish-white flowers with free petals occur opposite the leaves from June through August (in contrast to grape species that have flowers with petals that touch at tips and occur in panicles. The fruits appear in September-October and are colorful, changing from pale lilac, to green, to a bright blue. Porcelain-berry is often confused with species of grape.
Ecological Threat:
Porcelain-berry vines form dense mats, climbing over other vegetation, and reducing light availability to other plants. The seeds are dispersed by birds and small mammals that eat the fruit, as well as by water when the species is growing in riparian areas. Porcelain-berry appears to be most invasive in disturbed edges, gaps and riparian areas, while it is usually not found in closed canopy mature forest.
How to treat:
The only real way to eliminate this weed is to hand pull it and then apply herbicide to any stumps not fully removed to kill the roots. However, porcelain-berry is extremely invasive and hard to completely eradicate. Repeated weeding and spraying is likely to be necessary.
Native Alternatives:
Trumpet Honeysuckle (Lonicera sempervirens)
Goldflame Honeysuckle (Lonicera x heckrottii)
Jackman Clematis (Clematis x jackmanii)